Become a Member... Today!
When you join CRAFT you become part of the one trade association dedicated to the success of the entire craft industry. CRAFT champions education, marketing, and benefits for everyone engaged in the business of craft. Plus, as a member you will enjoy this superb benefits package:
Member Spotlight!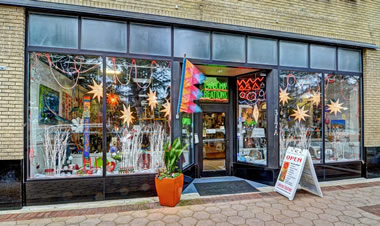 Carolina Creations is an award-winning, lively craft gallery located in historic and beautiful New Bern, NC. Owners Jan and Michael Francoeur are both artists, Jan a painter and Michael a potter and the gallery reflects their love of color, design and craft.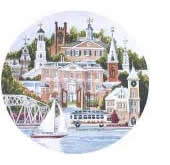 Around New Bern, painting by Janet Francoeur
With more than 300 artists and craftsmen represented at their gallery, the Francoeurs are always on the lookout for new and interesting craft. They maintain a regular schedule of gallery shows, an ambitious e-commerce site and a great gallery blog. They are also intrepid New Bern cheerleaders, consistently involved in the civic life of their coastal community.
In 2015, Carolina Creations will celebrate its 25th Anniversary!
If you are nearby, stop in to congratulate the Francoeurs on this significant milestone. Otherwise, check in with them at carolinacreations.com.
New Affinity Partner

CRAFT RETAILERS & ARTISTS FOR TOMORROW members have unique insurance needs. The CRAFT Insurance Program understands these needs and can provide members with access to innovative, industry specific insurance products and coverage at an affordable cost.
We can assist by creating a comprehensive insurance program that will protect your business and your employees while providing the BEST COVERAGE available to those in the creative arts. The CRAFT Insurance Program has created a "one stop shop" for you so that you can easily access all of your association member insurance solutions.
Specific & unique coverages available to CRAFT members include:
Business Contents Coverage - On & off premises
Coverage for Goods While at Shows & In Transit
Coverage for Tools, Equipment, Product Inventory & Supplies at installation sites, in transit and away from your premises
General Liability - Premises & Products
Loss of Business Income
Goods on Consignment
Coverage If You Teach Classes
Coverage for Sold Products