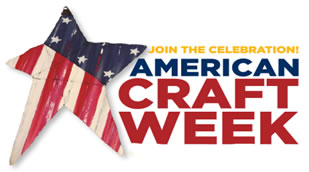 American Craft Week: The Signature Project of CRAFT.
American Craft Week is the country's largest celebration of handmade American craft. It calls together everyone in the business of craft - galleries, artists, craft organizations, schools, and festivals, to shine a bright spotlight on handmade every year beginning on the first Friday of October and continuing for 10 days.
Here are some interesting facts about American Craft Week:
In 2016, thousands of people participated in more than 1,000 events in 48 states.
ACW gives publicity to hundreds of craft artists and organizations through its Facebook page which has more than 8,500 followers, www.facebook.com/americancraftweek.
ACW has worked with towns, cities, counties, even entire states to create a tourist events centered on its craftspeople. Here are a few examples:
Western North Carolina Celebrates American Craft Week
Mendocino County Celebrates American Craft Week - California
Vermont Celebrates American Craft Week
Maine Craft Weekend
Cumberland Valley Celebrates American Craft Week – Pennsylvania
Fargo-Moorehead Celebrates American Craft Week
Virginia Celebrates American Craft Week
ACW organizes and produces the "America's Top 10 Towns for Craft Lovers" contest. See 2017's winners.
ACW produces a showcase exhibit with a different theme every year. See the showcase at www.acwshowcase.com.
You can be involved in ACW in many ways - as a sponsor, a participating event, or an attendee. Check it out at www.americancraftweek.com or contact us at .
The dates for American Craft Week 2017 are October 6 -15. Please plan to join us!