Become a Member... Today!
When you join CRAFT you become part of the one trade association dedicated to the success of the entire craft industry. CRAFT champions education, marketing, and benefits for everyone engaged in the business of craft. Plus, as a member you will enjoy this superb benefits package:
Become a Tradeshow Pro!
"This was an amazing course!" "Now I know what I need to do before signing up for a show." Everything was presented clearly and the information was fast-paced. I never lost interest."
These are just a few of the rave reviews from artists attending ALL ABOUT WHOLESALE, the one-day, intensive seminar for artists who want to sell wholesale to shops and galleries. Now the course is back with two locations:
* Philadelphia Gift Show on Saturday, July 21 in Oaks, PA.
*American Handcrafted Orlando Show on Wednesday, September 5 in Orlando, FL
Developed and taught by CRAFT, this course covers everything you need to know about selling wholesale. Bring your handcrafted business to the next level, and save hours of frustration and tons of money. ALL ABOUT WHOLESALE gives you a step-by-step approach for organizing your business, pricing your products, and developing the materials you need to be a pro!
The class is open to handmade newcomers and veterans who need a refresher for today's competitive marketplace.
For complete details and registration, click here.
For questions, email us, .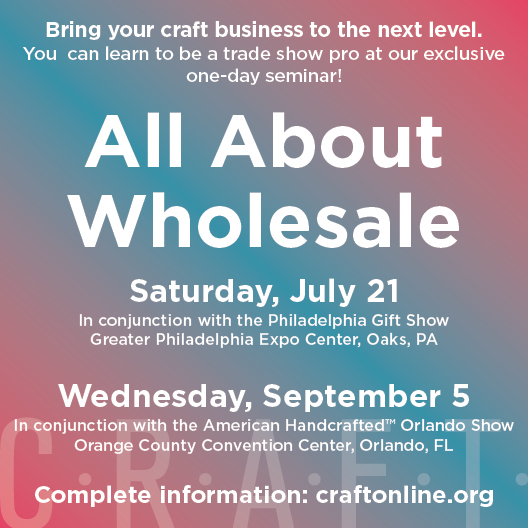 New Affinity Partner

CRAFT RETAILERS & ARTISTS FOR TOMORROW members have unique insurance needs. The CRAFT Insurance Program understands these needs and can provide members with access to innovative, industry specific insurance products and coverage at an affordable cost.
We can assist by creating a comprehensive insurance program that will protect your business and your employees while providing the BEST COVERAGE available to those in the creative arts. The CRAFT Insurance Program has created a "one stop shop" for you so that you can easily access all of your association member insurance solutions.
Specific & unique coverages available to CRAFT members include:
Business Contents Coverage - On & off premises
Coverage for Goods While at Shows & In Transit
Coverage for Tools, Equipment, Product Inventory & Supplies at installation sites, in transit and away from your premises
General Liability - Premises & Products
Loss of Business Income
Goods on Consignment
Coverage If You Teach Classes
Coverage for Sold Products