Become a Member... Today!
When you join CRAFT you become part of the one trade association dedicated to the success of the entire craft industry. CRAFT champions education, marketing, and benefits for everyone engaged in the business of craft. Plus, as a member you will enjoy this superb benefits package:
American Craft Week 2021
Sometimes it is wise to take a break to re-evaluate and refresh! That's where we are with ACW 2021.
The COVID-19 epidemic closed and/or restricted many of our traditional partners, sponsors and participants. The whole idea behind ACW is to hold craft-centered events and invite as many handmade enthusiasts as possible. The week is intended to be a nationwide celebration for and about makers, retailers, museums, collectors and craft lovers.
We thank everyone who attempted both in-person and virtual events in 2020. We talked with a number of you and found that "the field" is uncertain about mounting large-scale events in the coming months, citing sponsorships, resources and regulations.
However, there is no doubt that we all are still proud of our craft community and the role handmade in America plays in our communities, economies and lives. So, we are asking you to celebrate ACW 2021 in your own way – be that limited or grand. We will not be posting events on our website, but information, logos and other resources will still be available. Use them and celebrate this coming October 1-10.
Our Steering Committee would love to hear from you. If you have thoughts, ideas or want to work with us to imagine a newly energized ACW in 2022, contact us, .
Thank you! Keep making, selling, and celebrating American Craft.
Eric Shea Honored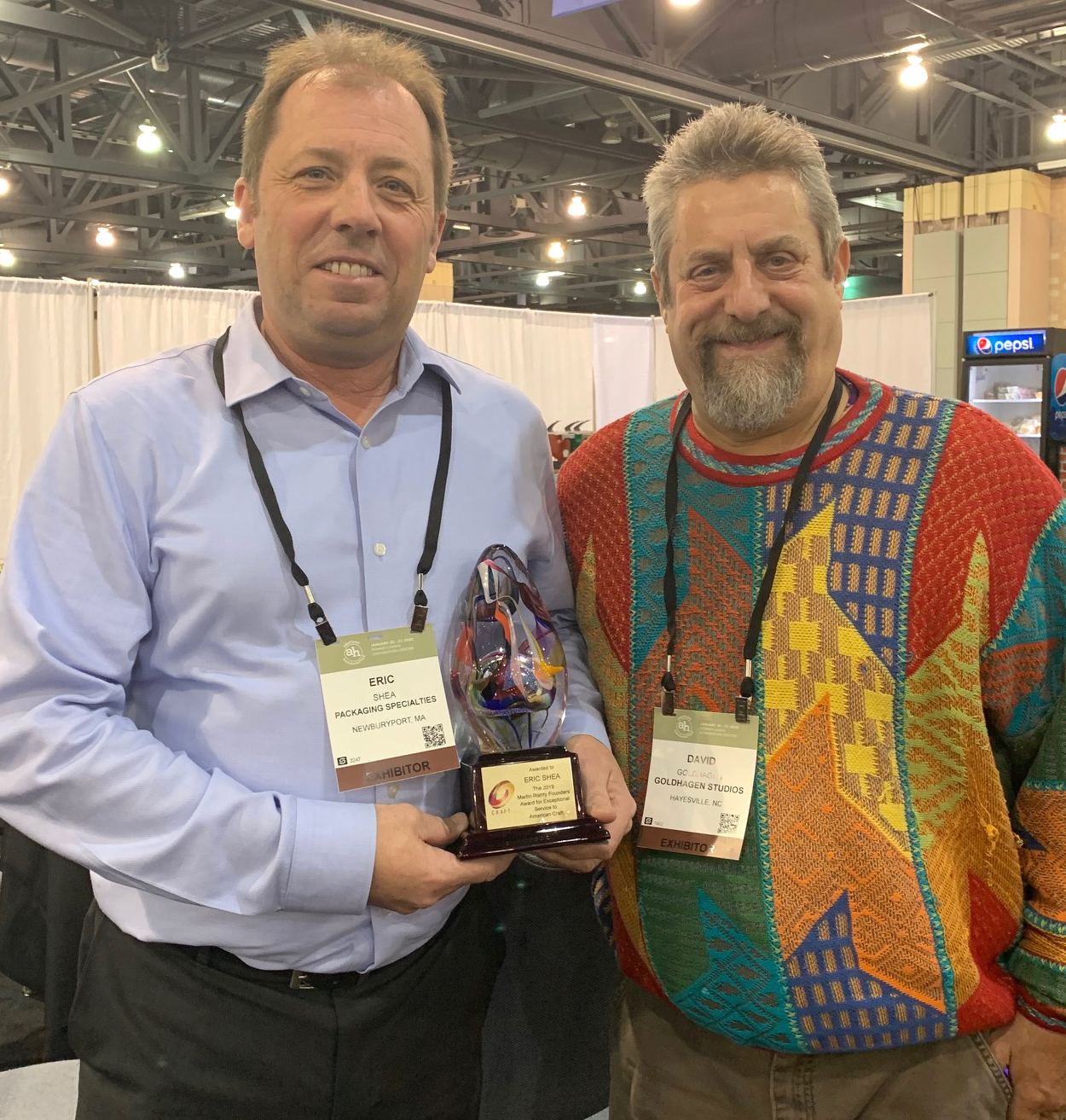 At the February American Handcrafted Show in Philadelphia Eric Shea of Packaging Specialties was awarded the 2020 Martin Rishty Founders' Award. This award is voted by the CRAFT Board of Directors for exceptional service to the handmade community. Eric and Packaging Specialties have supported CRAFT projects since the beginning of the organization. In addition, the company is a valued member of the CRAFT Affinity program, a generous discount available for members to meet their packaging needs.
Eric expressed his appreciation for the honor and paid tribute to all the CRAFT members he works with saying, "I love working with so many galleries and CRAFT members and I sincerely thank the Board and CRAFT organization for this wonderful award. It's very special to me."
The custom, handmade glass award was specially created by CRAFT member David Goldhagen in his North Carolina studio.